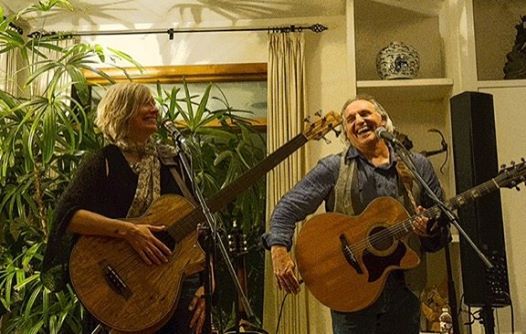 Why?
People are hungry for music - to hear it, feel it, share it, make it - to take part in the community it creates.  When the desire is truly to participate in music, bars and restaurants can't always fulfill that desire. 

Enter house concerts:  environments that focus on the music itself.  There indeed, may be friends and food and beverage involved - but the idea is to inspire an event that puts music first, that allows for communication with the artists and the audience in ways that large concert venues or noisy commercial establishments cannot often allow.  There is the chance to hear about "the process":  how do these songs show up; what is the writing process like; what is it like to share something so personal with others?  At a house concert, once the music starts, there is the chance to listen to and really hear that music without distraction, which is something new to many.
How does it work?
House concerts can look a lot of different ways.  They can be a gathering of friends and family.  They can draw attendance from community or from specific groups.  They can be held in homes, community centers, backyards, barns, churches. . .  There are many possibilities.  Groups can range in size from 10 to 40 to whatever the space can hold.  Get creative with seating: guests can bring chairs; blankets work on lawns.  Keep track of RSVPs so you know what kind of turnout to expect.  A house concert can be a one-time event, but there are also individuals and organizations that host regular house concerts and have developed the reputation of drawing traveling musicians to their area.  They can develop quite the following!   

Typically, a suggested donation of $15 - 20 is requested, and typically, the proceeds go directly to the musicians.  This helps independent artists "take to the road" a bit - to get their music out there to locations that they may not be able to otherwise.  If this is a "donation" and not a "cover charge" - the venue continues to be considered a private event, and hosts can avoid the outside "details" and regulations that a commercial event would entail.  The same applies to the event being an "invitational" gathering - not something advertised in newspapers or open to the public in the usual way.

Very often, the house concert host will provide a main dish and guests will bring side dishes, desserts, or beverages to share.  Though the focus is on the music - there is plenty of opportunity for visiting between sets - not only among the the guests attending, but between guests and musicians as well.

It is customary for hosts to provide traveling musicians with overnight accommodations and breakfast the following morning.  For those tried and true music lovers, this can be a favorite part of the house concert venue: to get the chance to interact one-on-one with the musicians and hear of their experiences on the road, before they head out to their next location.
Host a house concert of your own.
House concerts are happening all over the United States.  They can be a great way to celebrate an occasion, to gather friends or connect community.  They can be a one-time event, or an on-going series.  They always provide a more intimate interaction with music and musicians and allow traveling artists a listening room in which to grow their songs.

This is certainly one of our favorite venues! 
And we would be happy to bring our music to you!
To book Bittersweet Highway:

Please contact us through the form on the contact page here on our website, or you can email us directly at:  bittersweethighway@gmail.com